About This Project
The law leads us to Christ. But hardened hearts seek to be their own "moral" savior.
Your own "law" can badly blind you to your need for Christ.
Israel is a case study of die-hard commitment to a humanized standard of rituals and observances that may seem pious but are unable to save.
The problem with human "law" is the human heart.
IN CHRIST, THE CULTURE'S SCRIPT IS ALWAYS FLIPPED:
The insiders are out.
The outsiders are in.
The giants lose and
The underdogs win
Understanding God's Sovereignty over salvation goes perfectly fine with our need to evangelize, pray and do missions.
WE MUST GO!
We are sent to the world to bring the message of Salvation.
We must preach the Gospel and ght against distortions.
We must depend totally on God's power to save and not our ability to convince.
☑️SUPPORT THIS CONTENT at https://timhatchlive.com/support/ OR on the Cash App with cashtag: $timhatchlive
Romans 10:4 For Christ is the end of the law for righteousness to everyone who believes.
Romans 10:15 How beautiful are the feet of those who preach the good news!
Scriptures Studied:Romans 9:30-33, Romans 10, 1 Corinthians 3:18, Matthew 23:23-24, Matthew 5:17, Luke 25:25-27, John 5:39, Acts 17:2-3
Points to Note:
3 Options for WHO is in Charge: (1) You  (2) The devil  (3) God
LAW RIGHTEOUSNESS
Only for the Jew
Based on works
Self-righteousness
Cannot save
Obey the Lord
Leads to pride
FAITH RIGHTEOUSNESS
For "whosoever"
Comes by faith alone
God's righteousness
Brings salvation
Call on the Lord
Glorifies God
Understanding Human Responsibility
No one can claim ignorance.
No one can claim injustice.
God has made Himself clearly known.
God longs for us to repent.
Romans 9-11 OUTLINE:
Romans 9 | Israel's past election.
Romans 10 | Israel's present rejection.
Romans 11 | Israel's future restoration.
👏👏👏 Pastor Tim Recommends 🔥🔥🔥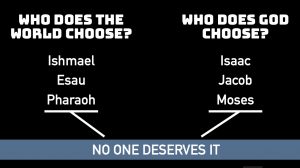 ⬇️⬇️⬇️News Links⬇️⬇️⬇️
Famous Jewish Rabbi codes Jesus as the Messiah https://opentheword.org/2013/08/07/famous-jewish-rabbi-codes-jesus-as-the-messiah/
Tim Hatch Live: 3 Podcasts; 1 Location:
🎙 The Deep End is a weekly live podcast diving deeper into Faith, Politics, the Bible, and the world we live in so we can live life with more meaning and less freaking out. Live on Tuesday nights at 7:30 EST or on your favorite podcast app anytime.
Viewer Questions: [You can always send us interesting news articles at ask@timhatchlive.comor text them to 508-316-9333 as well as ask any questions you may have (It's anonymous!)
🔵 WATCH MORE:
https://timhatchlive.com/
🔵 RUMBLE:
https://timhatchlive.com/rumble
🔵 FACEBOOK:
https://www.facebook.com/timhatchlive
🔵 TWITTER:
https://twitter.com/timhatchlive
🔵 INSTAGRAM:
https://www.instagram.com/timhatchlive/